Occasionally, the chair my clothes live on between washes starts to disappear. Usually when the pile includes a few pairs of pants, some T-shirts, a jumper and maybe a dress. At this point, I wonder at how quickly clothes take up space.
Especially since this pile probably only weighs about three kilograms, and every year Australians throw away more than three times that.
Since more than half the clothing in Australia is made from fossil fuel-based materials like polyester, the ABC's War on Waste says we're basically pouring 18,000 litres of oil into landfill every hour. Not to mention the glut of used and new clothes that have no value on the resale market, or to charity stores, that end up being dumped in other countries.
An Australian Fashion Council (AFC) report released in 2022 found only 7,000 tonnes of textiles are recycled in Australia every year, just 3% of what goes to landfill. But since most of this garment waste is being turned into rags, insulation or board, it's more accurate to describe it as downcycling. Australia is not alone in this; globally textile-to-textile recycling is almost nonexistent. The first commercial scale fibre recyclers, Renewcell, opened a factory in Sweden just last year.
This is because clothes are very difficult to recycle back into textiles. They are generally blends of several different materials and come in a wide range of colours, which complicates the processes required. Because clothes do not have their own waste collection stream like plastic, glass or paper, it is also difficult to procure the volume required for scale. Plus there is a critical lack of capacity to accurately sort garment waste, and even less technology that can actually recycle it.
In June, the AFC launched an initiative called Seamless to fund textile recycling infrastructure and other circular initiatives; but building commercial-scale capacity will take years. At the moment, there are two large-scale recyclers operating in Australia, alongside a network of raggers who shred clothing for reuse as stuffing, insulation or rags. This week the major players, Upparel and Blocktexx, explain what they can currently make with old clothes.
Turning fashion fluff into pillows and puzzles
Melbourne based company Upparel, operating in Australia since 2016 and New Zealand since 2021, turns clothes into two products: fluff and board.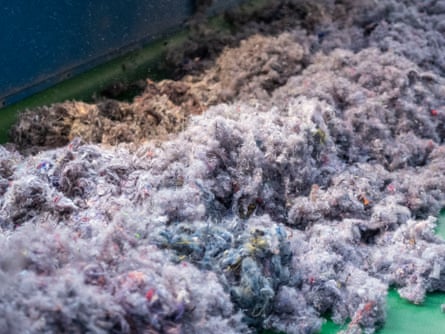 The fluff can be used in beds, pillows and for insulation. The board can be used for signage, retail displays, kitchen cupboards, walls, pallet boxes and children's puzzles.
Upparel's founder, Michael Elias, says they "can take all types of material composition whether it's polyester, cottons, elastane".
Both the fluff and board materials are made by mechanically shredding or tearing garment waste into fluff. The board is created by applying heat and a solvent to the fluff, to compress and mould it.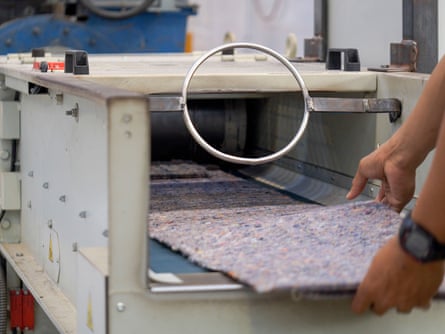 Elias says the board's uses vary depending on its thickness, which can be between 3mm and 100mm.
The model circumvents some of the collection issues common to textile recycling by procuring waste from three different sources: brands and retailers who give Upparel their excess stock, faulty items and customer returns; businesses, organisations and sporting clubs who hand over their old uniforms; and households who can go online and book a collection that gets picked up from their doorstep.
At the Upparel headquarters, everything is sorted by their staff. Garments that might have value on the resale market, or could be used by social enterprises, are passed on. Elias says over time they've learned that charities prefer worn designer clothes that might get $10 on the second-hand market, rather than something brand new that might only sell for $3.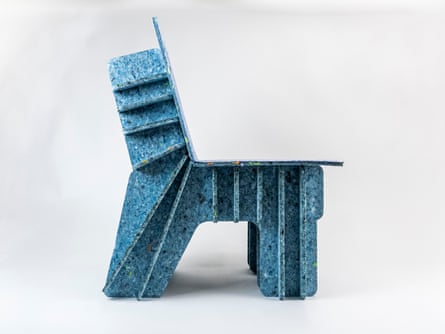 "These are the things that we know and understand that not many people can comprehend. We're not here to fight materialism, consumption and approaches," he says. "What we're committed to is keeping things out of landfill and recycling as much as possible."
Since they deal with a significant amount of new product, they create two tiers of boards: unworn and worn. "We wouldn't be creating a kid's jigsaw or a kid's cubby house out of [post] consumer product; but we would be creating inserts for boards and signage."
At the moment they are producing 1,460 tonnes of product annually: 900 tonnes is fluff and 560 tonnes is board. "All of it is manufactured in Australia," Elias says.
Turning poly-cotton into hangers, sunglasses and mulch
Queensland-based recyclers BlockTexx have developed equipment that can separate poly-cotton garments and bedding into two materials. The polyester is recovered as PET and turned into plastic pellets called PolyTexx. The cotton is recovered as a cellulose pulp called CelTexx.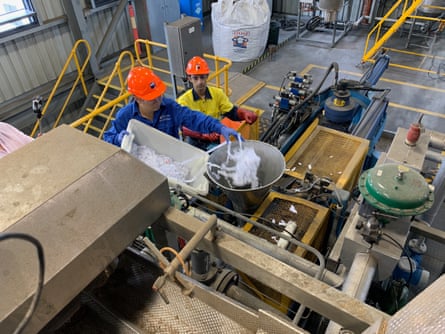 BlockTexx founder Adrian Jones says they are working on a wide variety of uses for both materials. PolyTexx can be used for injection moulding, in product areas aligned with the fashion industry like coat hangers and sunglasses. End uses for CelTexx are at the trial stage. "It is being tested in large-scale field trials for hydromulching," he says. The hope for both materials is fibre-to-fibre recycling, which currently isn't possible in Australia.
To procure the poly-cotton blends they need, BlockTexx works directly with uniform suppliers, commercial laundries, government agencies, businesses and retailers. "Our business model is to deal directly with commercial clients," he says.
Currently, their plant in Queensland has the capacity to process up to 4,000 tonnes of textile waste a year, "which is about 4,000 shirts an hour," Jones says. They have plans to scale this to 10,000 tonnes by 2024.
link