If Tim Watkins had still been living in the UK when he was scammed out of $222,000, he thinks he might have got all the money back.
British banks are already subject to a voluntary code for reimbursing scam victims and when new rules come into force next year they will be required reimburse victims.
But in Australia banks aren't required to reimburse scam victims – and after falling victim to a bank impersonation scam in March, Watkins was reimbursed just $30,000.
"I naively thought I'd get the money back," said Watkins, who moved to Australia from the UK 11 years ago.
Watkins is one of 10 Australian scam victims who have written an open letter to the government – to be released on Wednesday – urging it to follow the UK's model, after they incurred losses of between several thousands and millions of dollars.
The group say the onus is wrongly being put on Australians to protect themselves from increasingly sophisticated scams.
"Anyone can be caught by crafty scams," the group have written in an open letter to the prime minister, Anthony Albanese. "That's why we are really fed up by the narrative – pushed by the banks and others – that we let our guard down and are somehow at fault.
"We are the victims here, robbed because Australian banks, telcos, and government – who all have the ability and resources – failed to protect us from the highly sophisticated international scam business."
Watkins said he received a text message in a thread with other correspondence from his bank saying $850 had been withdrawn from his account. He was provided with a number to call if he didn't make the transaction.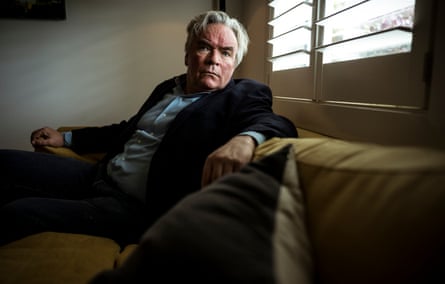 He called the number, spoke to someone who said they were from the bank and followed instructions to protect his account. That led to the money being stolen over 10 transactions.
"The feeling when I realised what happened is indescribable," says Watkins, who is a business owner. "It's this horrible feeling in the pit of your stomach.
"I had to dig into my mortgage to pay my staff and my suppliers."
James Green and Sarah Gerendasi, who also signed the letter and were victims of a bank impersonation scam, have received no reimbursement. They lost their life savings – nearly $100,000.
In the letter the victims wrote that while Australian banks had improved their anti-scam systems, it was "like a patchwork". In the UK, the soon to be mandatory code requires banks to reimburse scam victims when they have lost money through no fault of their own.
Last year Australians lost a record $3.1bn to scams, up from $2bn in 2021, according to the Australian Competition and Consumer Commission.
The average amount that individuals were scammed out of also increased, with average reported losses on Scamwatch hitting $19,654, up 54% from $12,742 in 2021.
A report by the Australian Securities and Investments Commission (Asic) in April found 31,100 customers across the major four banks – NAB, Westpac, Commonwealth Bank and ANZ – had collectively lost more than $558m to scams during the 2021-22 financial year. It found the rate of reimbursement was on average between 2% and 5%, with about $21m in total paid to the victims.
The assistant treasurer and minister for financial services, Stephen Jones, said discussions were under way to introduce a code of practice to mitigate scams.
"What is critical is that we have a significant uplift from banks, telecommunications and social media platforms because this is the ecosystem that the scammers operate in," he said.
Stephanie Tonkin, the chief executive of the Consumer Action Law Centre, which brought the scam victims together to advocate the government to make changes, said mandatory reimbursement should be central to anti-scam measures introduced by the government.
"Only a mandatory reimbursement model will incentivise the banks to do what only they can do to make their platforms safer for customers," Tonkin said.
A spokesperson from the Australian Banking Association said a recent authorisation from the consumer watchdog will soon see the banks working on initiatives together to disrupt scams.
"All sectors have a key role to play in the continued fight against scams," they said. "This includes government, banks, law enforcement, telcos, social media platforms, crypto platforms and individuals."
link