A fed-up mum has cut ties with ANZ and lashed out online after being told she was unable to withdraw cash from her local branch.
Brisbane woman Taryn Comptyn revealed she had visited her local branch to withdraw $3,500 to pay for renovations on her home.
When she arrived she realised she had forgotten her bank card, so she went inside in a bid to withdraw the lump sum using a teller.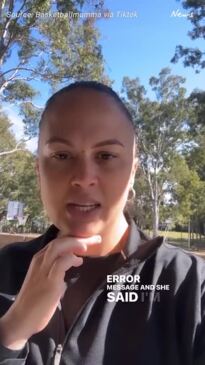 In a video shared on social media, Comptyn said she thought it would be "fine" to "just go to the teller" with ID.
But she was shocked to learn that tellers had no access to cash whatsoever and the only way to withdraw funds was via the ATM.
Things got worse from there.
The ANZ teller offered to set Comptyn up with a temporary card but when she tried to use it at the ATM she was greeted by an error message.
"(The teller) said, 'I am really sorry, there is nothing we can do'," Comptyn recalled.
Frustrated, she told the teller "I need to get my money out of my bank account," to which the teller responded apologetically, "We don't carry cash here."
Comptyn said she made a quick decision to transfer every cent from her ANZ account into an account she holds with a different bank.
She immediately closed her accounts with ANZ.
Comptyn's social media post struck a chord with many, garnering almost 40,000 viewers in five days.
Speaking with Today on Tuesday morning, Comptyn said: "If you can't get your own money from a branch, what's the point of a bank?"
In a statement, an ANZ spokesperson said: "At ANZ we have seen in-branch transactions fall 50 per cent over the past five years, with just one per cent of transactions now done over the counter and 96 per cent conducted digitally.
"Some ANZ branches no longer handle cash at the counter, but continue to have cash available through our onsite Smart ATMs.
"At these branches, cash and cheque deposits and cash withdrawals can continue to be made by using our Smart ATM and coin deposit machines, and we have staff on hand to help customers using them for the first time."
The bank confirmed it's only customers in metro areas that might be affected.
The Australian banking system's gradual shift away from cash is becoming somewhat of an open secret.
In May of this year, SBS reported that cash payments represented a mere 6 per cent of all transactions in Australia in 2022.
Richard Holden, Professor of Economics at UNSW, explained that obtaining cash has become increasingly difficult.
He also highlighted the significance of the New Payments Platform, developed by the Reserve Bank of Australia in 2018, which promotes digital transactions.
"It's become harder to get cash out, and banks are literally taking ATMs out of service, so it's kind of an effort to go get cash," Prof Holden said.
Efforts to promote a cashless society have been further intensified by Australian banks forging partnerships with fintech (financial technology) start-ups and encouraging regional communities to embrace cashless events.
Read related topics:
Brisbane
link