The Details
Trevor Jones is hosting his

2nd Annual Bitcoin Angel Party

in France from September 3 to 5th, 2023

In memory of the late OG Crypto artist, Alotta Money, Trevor is collaborating with MakersPlace for a

charity exhibition and auction

. Proceeds will be donated to

Maggie's

, a non-profit organization providing families with cancer support

30 curated artists involved include Pak, Jose Delbo, Bryan Brinkman, Hackatao, and PR1MAL CYPHER

Auctions Start September 2 and End September 8 (Fiat and Crypto accepted)
Castle Party, France 2023 – The art world is about to experience an extraordinary moment in history as Trevor Jones presents the second Annual Bitcoin Angel Castle Party, taking place in the exquisite Château de Vallery near Paris, France, from September 3 to 5, 2023. 
Not only hosting a monumental event, Trevor Jones also joins forces with digital art marketplace, MakersPlace to release the Alotta Money Charity Exhibition & Auction – seamlessly intertwining art, technology, and philanthropy in an unprecedented celebration of creativity and compassion.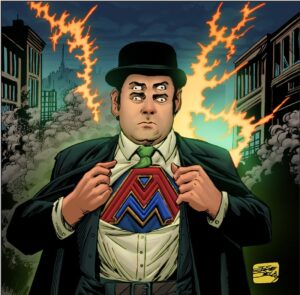 A Tribute to Legacy:
For those unfamiliar with the late Alotta Money, he is known as one of the OG Crypto Artists of the industry, notorious for his artworks which some describe as "cyberdelic pills mixed with crypto currency, anarcho propaganda, triple dipped in nonsense". For those that knew him personally, Philippe Fatoux was more than just a pioneer and digital architect. He is remembered by many as a true friend, filled with humor, passion and positivity that he spread to all those around him. Tragically, Alotta passed away due to cancer on March 3rd, 2022.
In his honor and to preserve a legacy, the Alotta Money Charity Auction consists of a curated selection of 30 artists who each created work inspired by Alotta himself. Funds raised through the auctions will be donated to Maggie's, a charity focused on providing families with cancer support.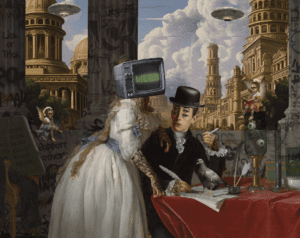 A Philanthropic Force: Beyond its artistic resonance, the Alotta Money Charity Auction champions the spirit of philanthropy.
Maggie Jencks, founder of the organization, was diagnosed with breast cancer at the age of 47. Through her personal experience, she realized that there weren't many resources or locations for families to gather outside of the depressing hospital setting. This inspired Maggie and her husband to form the first center, creating a happy and comfortable environment to support families. The charity continues to expand and change lives in Maggie's honor. After recently losing his father to cancer, Trevor Jones personally experienced the importance of needing support systems like Maggie's. As a smaller scale charity, any money raised through these auctions will create a dramatic impact on all the centers and families they serve, while also showing the world how much of a positive impact Web3 and the digital art community can have. By participating in this auction, collectors will contribute to a much larger cause, extending an impact far beyond the boundaries of the art world.
Auction Schedule:
September 1: A 24-hour preview of the exhibit

September 2: Bidding opens at 3pm BST / 7am PST / 10am EST

September 8: Bidding closes at 3pm BST / 7am PST / 10am EST
Enriching Your Collection, Enriching Lives:
We invite you to be a part of this extraordinary journey—a journey that bridges the gap between art and philanthropy, between digital innovation and real-world impact.  Artists involved in the exhibition and auction include Pak, Hackatao, Jose Delbo, Bryan Brinkman, mbsjq, PR1MAL CYPHER, noCreative, Violet Jones, Saint MG, Kitty Bast and Perry Cooper.
For full list of participating artists and more information, visit Alotta Money Charity Exhibit and Auction (makersplace.com)
Graduated from Edinburgh University and Edinburgh College of Art in 2008 with an MA Fine Art and has been exploring art and tech collaboration for more than a decade.
Their genesis NFT dropped on SuperRare December 2019. EthGirl was a collaboration with the creative genius Alotta Money and it opened up my eyes to a whole new world of creative opportunity and tech potential. 
Alotta Money was a Crypto Artist, memes perv, photoshop priest, VR&AR maximalist, NFT machine & most humble visual orgasm provider in the space. Their artworks are like cyberdelic pills mixed with crypto currency anarcho propaganda, triple dipped in nonsense.
A charity with a network of centres across the UK and beyond, which provides professional practical and emotional support to people who have been diagnosed with cancer. The funds raised by the auction will go to support the Maggie's centre in Edinburgh.
___________________________________________________________________________
link